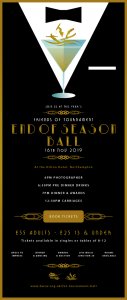 The Friends of Tournament 1st End of Season Ball took place at the Hilton Northampton on 16th November.
With the Ian Campbell Band, Junction 24 providing the musical entertainment a number of awards were made, as well as a fund raising 200 Club Raffle and Auction. A big thanks go out to all those who helped the Ball organisation and who generously donated items for the raffle and auction. Over £10,000 was raised to boost the funds of FoT as we head towards the 2020 season.
This beat all expectations and was a magnificent outcome for this inaugural event.
The nine Handicap League winners for 2019 were presented with Training Vouchers funded by FoT.
A new Breakout Skier Cup was presented to Charlie Emmett who went to the E&A U21 as a Wild Card in 2018 and made the slalom finals and in 2019 was there as a Team Skier.
This year two Mapple Awards for outstanding achievement were presented. The first to Joel Poland for his amazing performance at the World U21 where he won Slalom Gold, Jump Gold, Tricks Silver and Overall Gold. The second award went to Steve Sopp in recognition of his reaching 30 years as the British Open Team Team Captain. As well as the Mapple Award Steve was presented with a book of photographs and comments from many of the skiers who he has worked with over the years.
The October Double Up Draw took place during the Ball. The first prize of £1,080 was won by Val Parkin, No 20. The second prize of £720 was won by Tim Hazelwood, No 5. and the third prize of £360 was won by Paul Seaton, No 68. Congratulations to the winners.
There were 144 balls in the bag, a new high and further progress to our goal of 200.
Five 200 Club Tickets for 12 months participation were presented to our World U21 Team members in recognition of their achievement in winning the Team Gold Medal. So good luck to them in future draws.
Also announced was a change to the prize structure for 2020. The same amount of prize money, 32.5% of the monthly income, will be paid out each month but the double up month will stop and instead we will have four prizes each month. A first prize of 13% of the income, second prize of 9.75%, third prize of 6.5% and a fourth prize of 3.25%.
So 48 prizes each year instead of 36 and a bigger opportunity for all participants to win a prize.
Since we started 102 prizes have gone to 56 of the ticket holders.