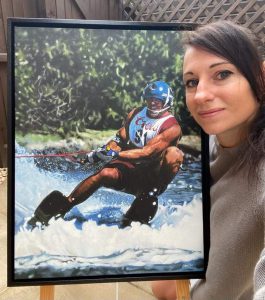 Auction Lot 1 – "Superstar"
Original Framed Acrylic on canvas of Mike Hazelwood
Dimensions 49cm x 59cm
This Item will be auctioned at The Friends of Tournament 70th Anniversary Ball this Saturday 20th November. Send your maximum bid to our auctioneer by message or email to Dusko Lukic (dushylukic@hotmail.com) by midday on Saturday and he will include you in the bidding. Good Luck
Mike Hazelwood competed as a member of the British Team in eight consecutive World Championships, the longest competitive record at that level of anyone who has ever won a World Overall Championship. During that period, from 1973 to 1987, Mike won three gold medals, including the one in 1977 for overall, five silver medals, and two bronze medals. As one of the most successful competitors of his era, he was appointed a Member of the Most Excellent Order of the British Empire (MBE).
Jumping was always Mike's strongest event, which he demonstrated by setting three world records between 1980 and 1986 and was the first competitor to jump 60 metres. Mike was a dominant skier in Europe for over a decade, winning the European Overall Championship eight times between 1976 and 1986.
Mike became a well-known household name in the early 80's, due to his appearances on the popular BBC sports show 'Superstars'. Mike demonstrated his incredible, all-round athletic ability, winning medals in a variety of athletic events.
The Artist:
Shortly after painting her husband Chris's favourite player Rúben Neves in February 2018, her world changed forever! After an initial collection of 13 paintings raised in excess of £12,000 for Cure Leukaemia, Louise received the call from Wolverhampton Wanderers and offered the opportunity to provide their match day programme cover artwork.
After two award-winning seasons, as well as commissions from Premier League footballers, Louise continues to capture Wolves, football and sporting moments on canvas and via fine art prints through the 'Sports Personalities' brand.
In their pursuit to raise money for the development of young talent and support of elite skiers, Friends of Tournament approached Louise with a photo of Sammy Duvall in 2019. The sale of the original raised £1500 at the 2019 Tournament Ball. This year's painting has been created from a photo taken by Tom King at the 1984 Coors Light Pro Tour, California, USA.